Decrease Stress. Increase Productivity. Enjoy Your Work!
So many corporate talks are too…well, just that – corporate! They're not always engaging and many fail to make that connection with the people who need them most.  Because, there's one thing that all companies and organisations have in common – people. Sometimes we can forget to look past the lanyard and see that when we are happiest as humans, our work and all our relationships improve and get easier. No matter the business, we all share the same challenges and look for more of the same things:
Better sleep
Ability to Switch Off
Connection to Our Work
A Sense of Joy
More Creativity
More Confidence
Stronger Relationships
Better Communication
Just a bit more…craic!
That's why all my corporate work is about people. It's about what makes us human and how we can understand and harness that to thrive in our work and daily lives. I bring humour and relatability to all my talks and give your employees real, useable techniques that work in and outside of work.  Science has proven that meditation is the number one tool for combating stress and for returning your life to a feeling of balance. It leads to better decision making, improved relationships and more resilience. In a company, it is proven to foster harmony between employees and create a happier and more productive work environment. I love working with the biggest companies in the world, virtually and in person, to open the door to a different way of thinking and sharing effective stress-busting tools that employees can use in and out of the workplace. Most importantly, I want people to enjoy the experience and have fun so that the methods I share can really work for them.
Since covid, our working landscape has changed a lot. More hybrid situations have emerged in businesses and, as effective as this can be, there are more and more people who are feeling isolated and struggling a bit more. Now is the perfect time to introduce some resources that can help people navigate these new environments. Whether you're looking for a short introduction to mindfulness meditation and stress management or a more intense empowering wellness programme for your company, I can't wait to use my skills as a Certified Meditation Teacher with nearly 20 years in the entertainment and media business to set you and your staff on the path to a more peaceful and confident approach to life and work.
Spark creativity in your organization
Create higher efficiency
Reduce workplace absence
Develop an energetic team environment
Inspire better decision making
Foster improved relationships
Witness more effective communication
Enjoy a happier workplace
Understanding Stress and Making it Work for You
The Power Hour with Dermot Whelan – Un-wreck Your Head, Destress Your Life
New Beginnings – 3 Keys to Dealing with Change
Good Stress and Bad Stress and How to Know the Difference
Burnout and How to Avoid It
Power Talk – 5 Keys to Better Communication
Turning Fear into Confidence – the Exciting Science of Meditation
Vision to Win – Using the Secrets of the Stars to Get What You Want
Wellbeing Hour with Dermot Whelan
Meditation 101 – Everything You Need to Get You Started
Masters of Wisdom and Meditation Teacher
Dermot is a certified Masters of Wisdom and Meditation Teacher, training in California with one of the world's leading experts in corporate stress management and meditation practice.
Dermot has been a practicing meditator for over 10 years and works closely with healthcare provider, Laya Healthcare and has joined forces with mental health advocates such as A Lust For Life, and annual youth conference, Zeminar. His book, Mind Full, is a No.1 Bestseller and his Mind Full Tour was a sell-out success. He works in the area of mental wellbeing with companies and organisations across the globe.
We booked Dermot for a mindfulness and meditation talk and demonstration with the employees. I was impressed with his professionalism beforehand but was blown away by his delivery of the session. 100+ people all took part in the workshop, his ability to impart basic techniques in an engaging and funny way was complimented by many of the employees, I would highly recommend Dermot.
We at Northern Trust would highly recommend Dermot Whelan for a mindfulness and meditation workshop in the workplace. He took us through some great facts in this workshop and showed us how to practice a short daily meditation which was so easy to do. We all left the workshop in a more relaxed manner. Dermot has a lovely personality and added in some great comic relief to this event. We took a lot from this from workshop and it was refreshing to see how much Dermot wanted to give back and help others on this topic. We wish Dermot continued success.
Dermot was a roaring success... He was so on-point with the way he spoke about the impact of stress and the benefits of meditation and the message really resonated with so many in the room. He was funny and humble and an expert on the topic – honestly it was the highlight of the day for us all.
Dermot was knowledgeable, engaging, funny and got everyone interested and involved. He explained meditation and mindfulness practices in a way that resonated with us and was simple to understand. It can be easy to get caught up in the working day and think that we don't have time for ourselves. But Dermot's explanation and approach made it clear that meditation is something that we can do anywhere and can be as short or as long as we make it. Since April, we have introduced a 30 second breathing pause at the start of some of our meetings. Some people have taken up meditation or used it more often than they did. Dermot's talk has helped us to do that in our business and I would highly recommend Dermot to any company looking to do the same.
It was absolutely brilliant and everyone is still talking about it today.
Oh my god everyone loved him! Best guest we've had in ages! THANK YOU!
Highest event turnout for an external speaker Optum has ever had across UK and Ireland…the feedback and thank you messages that came into the chat box after the event were brilliant!
Dermot was an absolute rock star and was just what we needed...he grabbed the audience of 500 from the get go and had them entertained and engaged throughout.
I was impressed with his professionalism beforehand but was blown away by his delivery of the session…I would highly recommend Dermot.
All of our guests enjoyed his anecdotes and had such a laugh...Dermot's approach was a breath of fresh air to an audience who are very technical and can be very sceptical of this subject matter.
We got fantastic feedback and Dermot has certainly made a long-lasting impact on many people. The way Dermot juggles with funny and serious moments is truly impressive.
We are absolutely delighted with how it all went. I think the talk was perfectly suited to the audience here and I'm sure the participants got something very positive and useful out of it.
This was really was fantastic - Dermot is a natural and this session has had a big impact
It was brilliant … Delighted with the attendance in the end it was great to see and hopefully lots of people got some benefits and tips!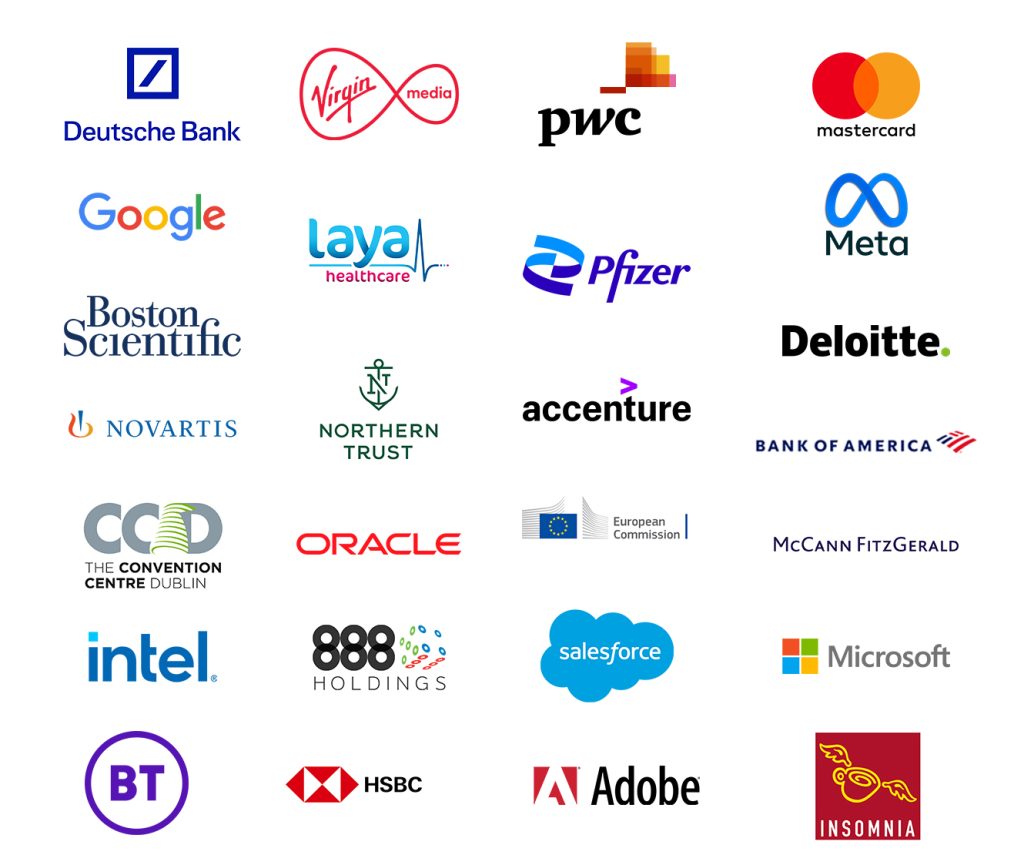 Your audience will be transformed with authenticity and laughs.
Corporate Meditation
Public Speaking
Event Host​
Your audience will be transformed with authenticity and laughs.
Corporate Meditation
Public Speaking
Event Host​